Meet the SmileStyle team
Meet the team who will put a smile on your face and look after you throughout your treatment journey at SmileStyle Orthodontics.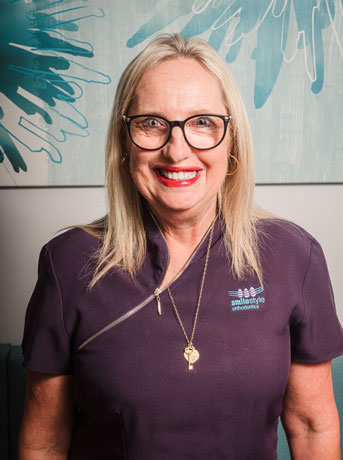 Julie
Practice Manager
Julie is our Practice Manager and Marketing Manager. She is dedicated to ensuring that all of our patients have a wonderful experience at each and every visit.
Julie is available every day for any enquiries you might have. Julie is a fully qualified dental assistant, having worked in the dental field since 1980 and with SmileStyle since 1993.
Claire
Oral Health Therapist
Claire graduated from the University of Queensland in 2006 as an Oral Health Therapist. She has been working as a Hygienist/Therapist on the Southside of Brisbane since graduating and is now very excited to be working at SmileStyle Orthodontics.
Claire has two beautiful children, Connor and Harper, along with two crazy pug dogs who keep her busy. Claire looks forward to meeting you and working alongside Michael to help care for your oral health needs.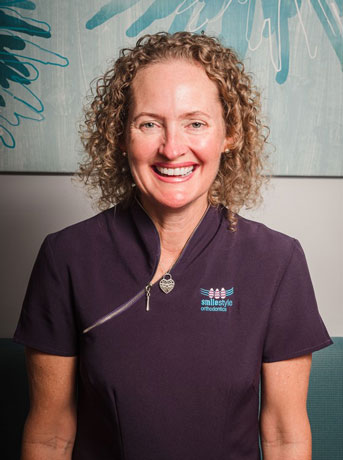 Suzanne
Business & Marketing Manager
Suzanne is our Business & Marketing Manager and has worked for SmileStyle since 2010. Suzanne has a background in Sales & Marketing and previously worked in hotels. You will not often see Suzanne in the practice, however you may speak to her on the phone. Suzanne loves to travel, enjoys the gym & playing hockey.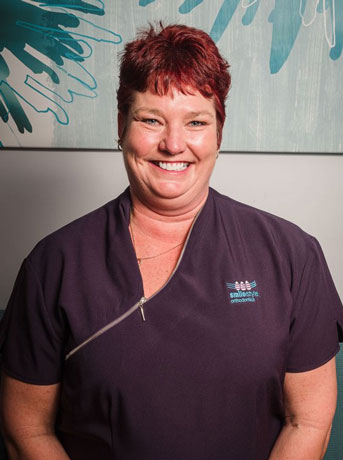 Kaye
Patient Concierge
Kaye is our Front Office Coordinator and joined our team in 2017 after being in General Dentistry for over 30 years. In that time, she has done chair-side assisting as well as reception management.
Kaye assists with the coordination of the front office by scheduling appointments, arranging patient files and greeting all patients with a "BIG Smiley Face" welcome and exceptional customer service.
Out of office hours, Kaye enjoys life by going to the gym and watching live shows and bands.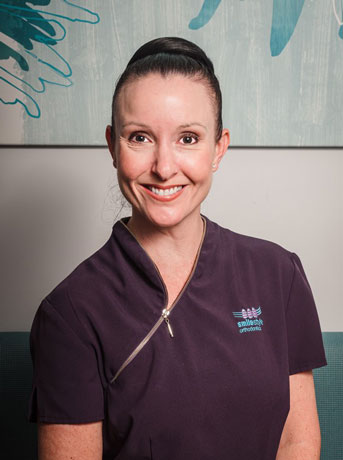 Bex
Patient Coordinator
Bex joined the SmileStyle Team in 2019 after retiring from a 20 year career as a Company Performance Manager, performing on board the luxury cruise liners that make up Princess Cruises.
Although new to the orthodontic world, Bex is well versed in all things administration - holding a Business Administration qualification - and loves the challenge of expanding her knowledge here at SmileStyle Orthodontics.
Bex is thrilled that her new profession allows her to do what she loves most - providing exceptional service to our patients whilst hopefully enriching their day with a smile!
After spending 20 years travelling, Bex admits that in her free time she is a complete homebody who loves cooking, grocery shopping (yes!) and occasionally exploring new parts of Queensland with her husband.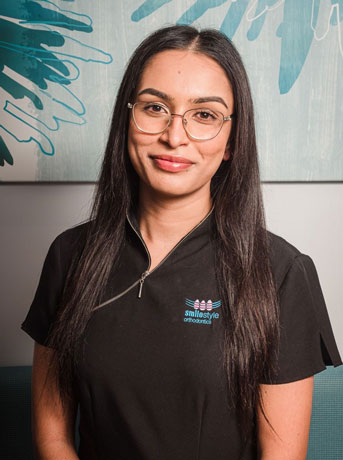 Kelly
Clinical Assistant
Kelly is one of our clinical assistants and joined our team in October 2020. For the two years prior, she was living and snowboarding in Canada! Kelly previously worked at Foot Locker as well.
When Kelly is not working, she enjoys the gym and her two puppies named Ava and Sheeba!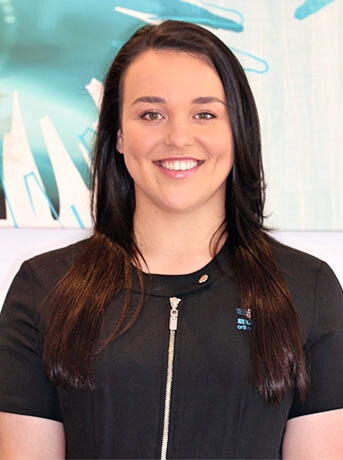 Lauren
Clinical Assistant
Lauren joined the team in 2022 with 5 years of experience in the Dental field assisting in general dental and specialist paediatric dental surgery.
When Lauren is not working, she & her husband spend time with their crazy kelpie and their two horses, with the occasional trip to the family farm.
Why we're the clear choice for your treatment
Trust the team at SmileStyle Orthodontics to deliver the smile results you want.
1.
1,000 happy smiles created with Invisalign®
We are your local Diamond Invisalign® providers.
2.
Two convenient locations and easy parking
Come visit us in Loganholme or Capalaba.
3.
Excellent results for the whole family
It's never too late to achieve your dream smile.
4.
State-of-the-art technology
We use the latest equipment to bring you the best results.
5.
30 years of specialist experience
We can treat even complex orthodontic issues at our practice.
6.
No deposit, no interest payment options
We keep a straight smile attainable on any budget.